Skip to Content
Dentures
Bellefontaine Family Dental provides dentures for patients who are missing a tooth or multiple teeth. Our dentists provide personalized partial and full dentures that fit your mouth and give you the most comfort possible. We invite you to set up your consultation today and learn more about dentures in St. Louis, Missouri, by contacting our office at 314-741-5133.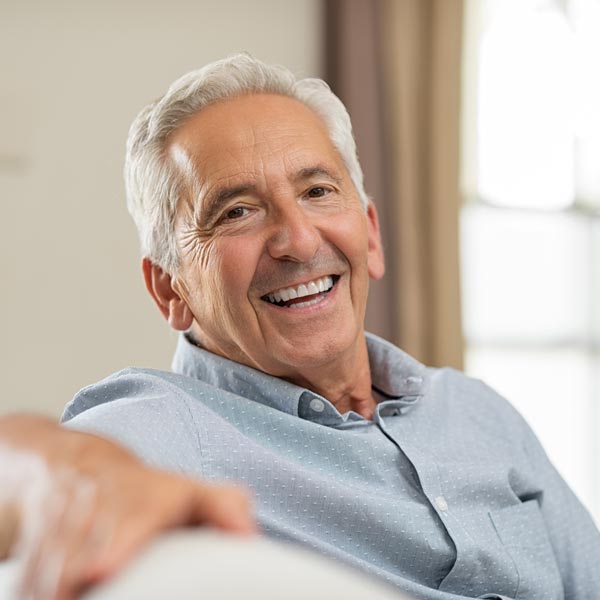 What Are Dentures?
Dentures are removable oral appliances used to replace multiple missing teeth. If you are missing several teeth or all of your teeth, dentures might be just what you need to restore the function, beauty, and health of your smile. Our dentist may recommend complete or partial dentures to restore your smile if you are missing multiple teeth; dentures can improve your ability to properly speak and eat, restore your natural facial volume, and enhance the overall beauty of your smile.
Your dentures will be custom made to fit your smile comfortably, aesthetically, and securely. There are two kinds of dentures: complete dentures and partial dentures.
Complete Dentures
A complete denture is used to replace all of the teeth in a full dental arch. We may suggest a complete denture to replace all of the teeth in both arches or just one, depending on your individual needs. Our dentist may suggest using a denture adhesive for improved stability.
Partial Dentures
A partial denture is used if you are missing multiple teeth but have remaining natural teeth. A partial denture often includes a thin framework or clasps that attach to the natural teeth for a secure fit.
Caring for Your Dentures
Just like your natural teeth, dentures require daily care to keep them clean and prevent bacteria from growing in your mouth. When caring for your dentures, we recommend that you:
Stand over a clean, folded towel or a sink full of water. This way, if you accidentally drop your dentures, they are less likely to break.
Brush your dentures daily. To brush your dentures, use a soft-bristled brush and gently brush the surfaces of the dentures, being careful not to break or bend the plastic. Rinse your dentures after each meal between brushings.
Keep your dentures moist when you are not wearing them. Dentures that are not kept in a denture cleaning solution or in water can dry out, lose their shape, or even crack and break. Ask your dentist which solution is best for you.
Use a gentle cleanser to clean your dentures. Many toothpastes, household cleaners, and mouthwashes can be too hard on your dentures, so it is recommended that you use a mild hand or dish soap to get your dentures clean. Be sure to check for the American Dental Association (ADA) seal of approval to choose products that are safe for your dentures, or ask your dentist about which products may be best for you.
Keep your gums and tongue clean. Be sure to use a soft-bristled brush to gently clean your gums and tongue every day.
Contact Our Office for Denture Repair or Replacement
If your dentures break, please contact our office immediately so that we can repair them or fit you for a new set of dentures. If unexpected tooth pain or an accident have you suffering, give us a call and schedule an appointment. Reach out to our office by calling 314-741-5133 at your earliest convenience!